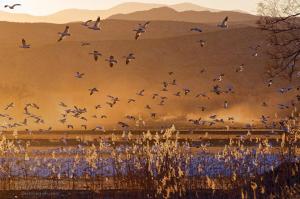 Autumn time in New Mexico at the Bosque del Apache just before sunrise with Sandhill Cranes and Snow Geese awakening from their night. The Bosque del Apache National Wildlife Refuge, fondly known as "The Bosque," is in New Mexico near the small town of San Antonio, NM, 9 mi. south of Socorro, and less than an hour and a half from Albuquerque.
Sandhill Cranes, Snow Geese and many other migrating birds make the Bosque their winter home in beautiful New Mexico, the Land of Enchantment with incomparable sunsets, delicate multicolored mountains, intense blue skies and special light.

The pink of the sunrise is reflected on the ice.



Speaker to the delegation. Bosque del Apache is Spanish for "woods of the Apache," and is rooted in the time when the Spanish observed Apaches routinely camped in the riverside forest. Here, tens of thousands of birds–including sandhill cranes, Arctic geese, and many kinds of ducks–gather each autumn and stay through the winter.




Sunset Flight. One of the most amazing bird watching sights in this great state lies in the Rio Grande Valley, South of Socorro. You do have to get up early, before sunrise, and stay late, after sunset, to get the most out of your visit.




My work is rooted in my experience in nature. As an outdoor enthusiast and a whitewater raft guide, I have found myself in some pretty amazing places. Having a camera in hand was perhaps the only way they would believe me. It could be a Iphone, a simple point and shoot or my nikon camera. The challenge for me has been learning how to use my gear and knowing its potential. I utilize digital processing to enhance what is already there. Striving to find a balance between the physical and its essence. The natural wonder that I feel in the outdoors reminds me of my childhood musings, where my sense of adventure was free from erroneous limitations, where there were no rules. It is this sense of play that I share via my photographs.
The Bosque is a special place.
Thanks for clicking in.